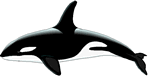 WHALES IN THE OCEAN
A fun activity to do with your children is to make a bottle ocean with whales inside.
Take a large clear soda bottle and fill it half-way with water.
To make the water blue, let your child add a few drops of blue food coloring.
Next, take two small balloons and partially fill them with air.
Tie off the ends of the balloons.
Squeeze the small balloons into the bottle.
Screw on the bottles cap.
Have your children take turns holding the bottle and tipping it up and down to create waves.
Children love watching the whales bob up and down in the ocean.

WAVE MACHINE
Another fun ocean project to do with preschoolers, is to make a wave machine. You will need a plastic jar with lid, water, blue food coloring and some mineral oil for this project.
Fill the jar two-thirds full with water.
Add a couple of drops of blue food coloring and mix well.
Fill the rest of the jar with mineral oil. Get rid of as many air bubble s as you can.
Secure the lid tightly.
Have your children hold the bottle sideways and gently tip it, creating delightful wave actions.

OCEAN PLAY AREA
Turn the space under a card table into an ocean hideout for your child.
First, hang some blue crepe paper streamers or twisty ribbon all around the table so that it hangs down to the floor.
Next, place some pillow "rocks" inside for your sea creatures.
Provide your child with some plastic or stuffed sea animals to place in the den.
Decorate with pictures of the sea and place books about the sea inside.
You'll be surprised how much time your child will spend in his/her underwater space.
For a special treat, provide "fish" crackers for an underwater snack.